Update 7: Trying to bust the rust Published: 31.10.18
I have been testing Suzuki's budget café racer for the best part of six months now, using the bike as a commuter, weekend toy and trackday mule and I've experienced almost every weather condition along the way.
Picking up the Suzuki's keys in early May, my first few weeks with the SV were spent battling the tail end of our unseasonably long winter, with road salt, sludge and low temperatures sadly being a daily occurrence.
Rust is a repeat offender
Despite my best efforts of regular rinsing, weekly cleaning and coatings of ACF-50, the bike developed a few rust spots around the top of the forks and the outer plates of the chain.
A symptom of its cheap £6199 price tag, the hard-fought battle with rust has been an ongoing one, with even the warmest summertime shower turning the chain a shade of Wotsit orange if left it longer than a day to fester.
The exhaust headers have also suffered, due to being exposed to the elements at all times. They are now a shade of browny-grey, with flecks of blue creeping through where the metal has changed with constant exposure to the heat.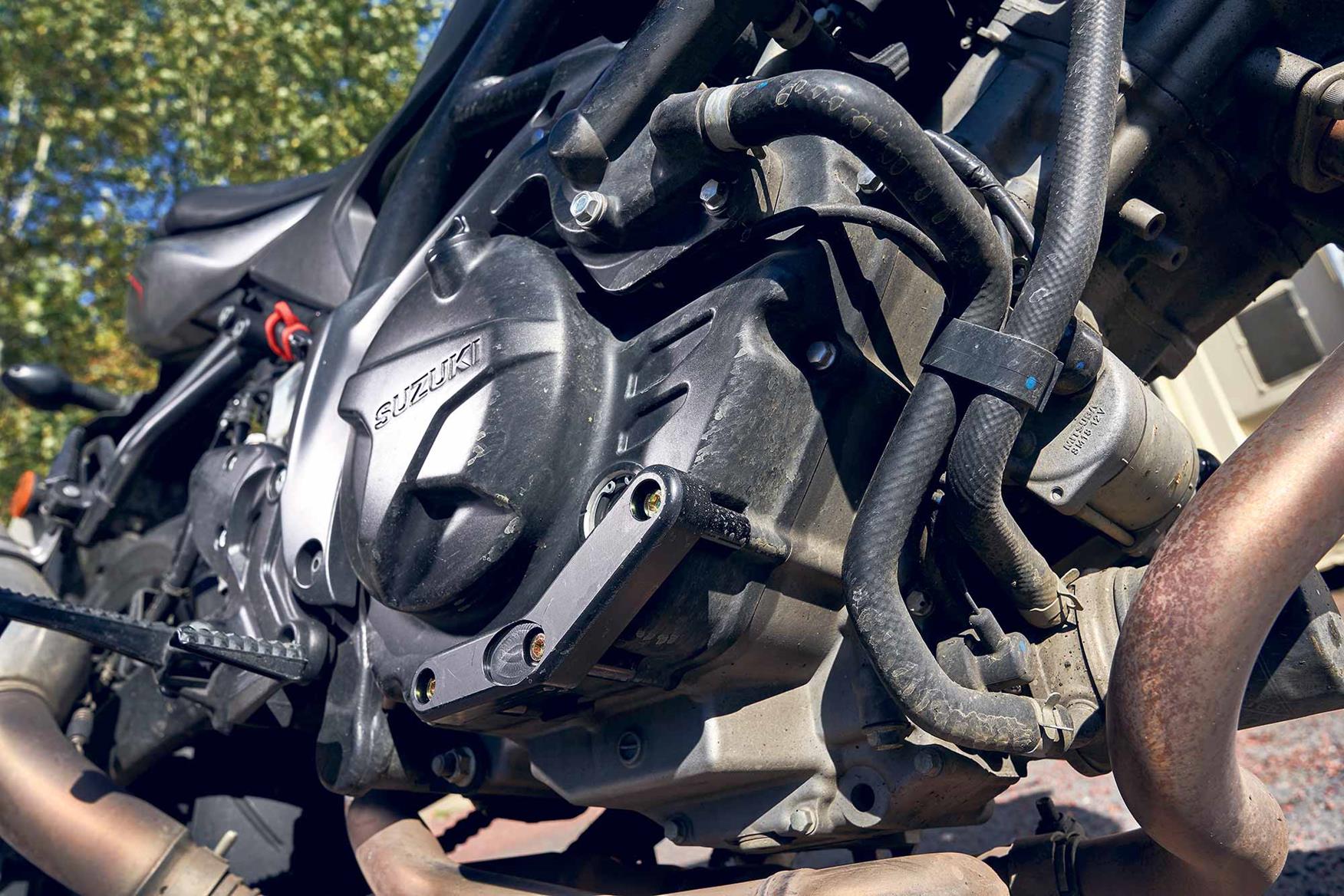 Keeping the issue at bay is possible, however it requires plenty of elbow grease and a lot of cleaning tools and agents; all of which are costly and it's a time consuming chore. I am prepared to do this, however newer riders (who often purchase SVs as a first big bike) may be unaware of such cleaning rituals, meaning unnecessary oxidation to their brand new motorcycle.
Sunday with the family at Mallory Park for Race of the Year. Couldn't have asked for better weather and the racing was so close at the sharp end! #MCNFleet18 #ride5000miles pic.twitter.com/2tVvtaA0in
— Dan Sutherland (@DanielJS46) October 21, 2018
With the nights now drawing in and temperatures starting to drop, I have decided to take the fight directly to the winter roads this year, installing a series of modifications from R&G to help combat the poor weather.
Starting at the front end, I now have a £29.16 headlight shield, £51.66 radiator guard and £23.33 fender extender to help take the brunt of the rain, sleet and grit. The fender extender should also reduce spray to the front cylinder, which will hopefully slow the rusting on the corresponding exhaust header.
Moving further back, I have also taken to installing aero-styled £64.16 crash protectors and £31.66 engine case sliders because, although I don't plan to have a spill, I want to be protected when the grip levels are reduced.
After two weeks of daily riding, we've treated the #MCNFleet18 @SuzukiBikesUK #SV650X to a thorough clean and anti-corrosion treatment to help tackle the now grit-laden roads. #ride5000miles pic.twitter.com/R78uo58KkV
— Motor Cycle News (@MCNnews) October 31, 2018 Update 6: Reader Q&A Published: 16.09.18
"How would it cope with being used in winter?" - Jonathan Mahiques-Pearce
At the beginning of the year, I found that in order to keep on top of the winter salt, I had to apply plenty of ACF-50 anti-corrosion spray and clean the bike regularly in order to keep I tlooking presentable. This consisted of a rinse after every use and one thorough weekend clean per week. With that, the bike survived the crud quite well, however small pockets of surface rust were still able to form on the forks and outer plates of the chain.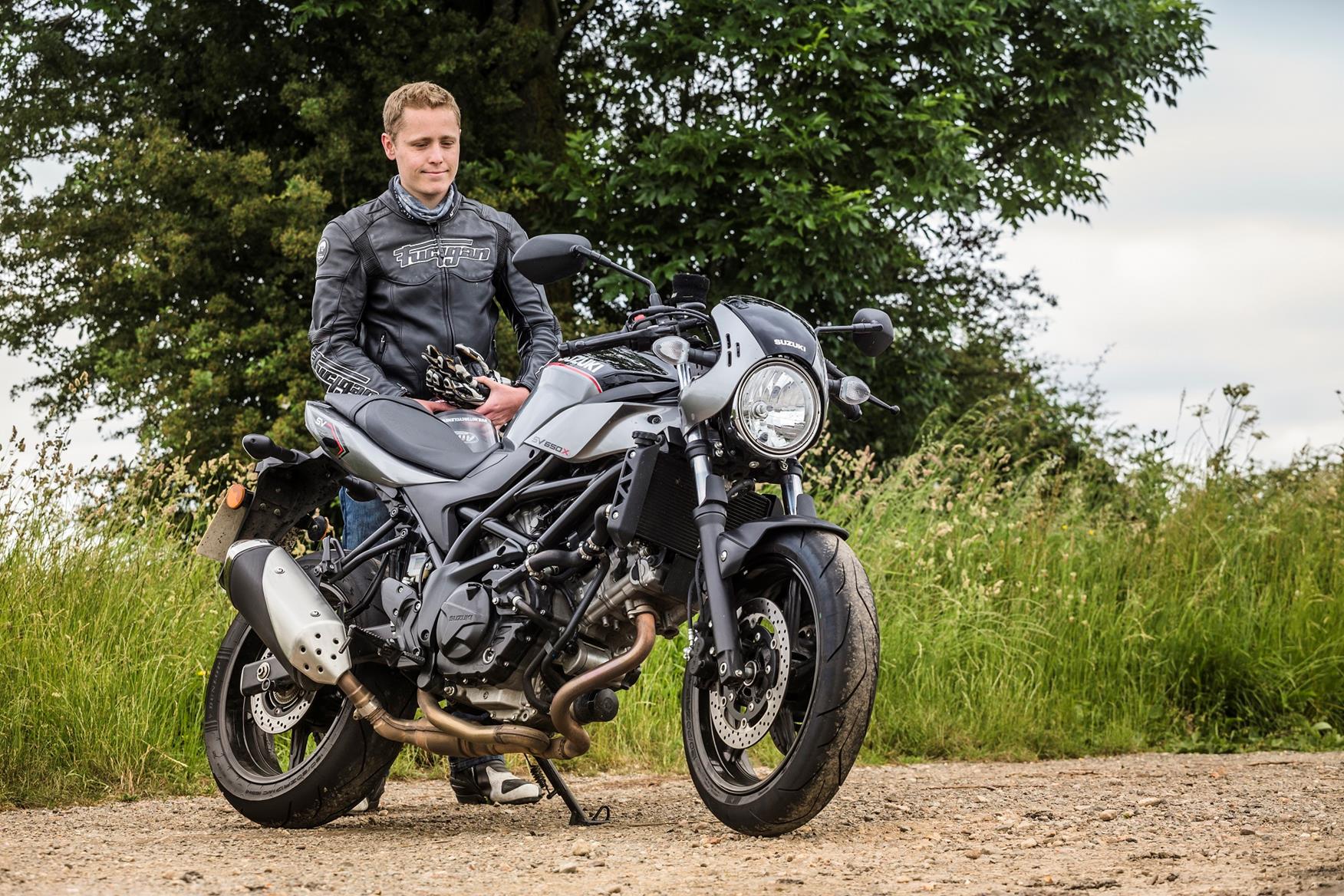 "What factory upgrades would you recommend?" - Alex Jessop
I have installed a couple of factory modifications, with the most useful being the £25 paddock stand bobbins and a £102.64 replacement seat. As I travel around 500-600 miles a week on this bike for pleasure and commuting, maintenance on the chain is key. The bobbins give me great access to this and the back wheel for cleaning, lubricating and adjusting. The standard stylish rolled seat on the SV650X is simply too thin to be comfortable over long-distances and so I replaced it with the plainer, thicker seat from the standard SV650, which offers slightly more padding and fits perfectly.
"Is the Café Street package any good?" - Phil Boyes
The X offers a sportier feel than the standard SV with the "Cafe Street" kit (£6378 for the bike and kit) as it comes with clip-on bars. Besides that, they are essentially the same bike and both are good value for money. However, you can't get the Cafe in the lovely black and silver finish.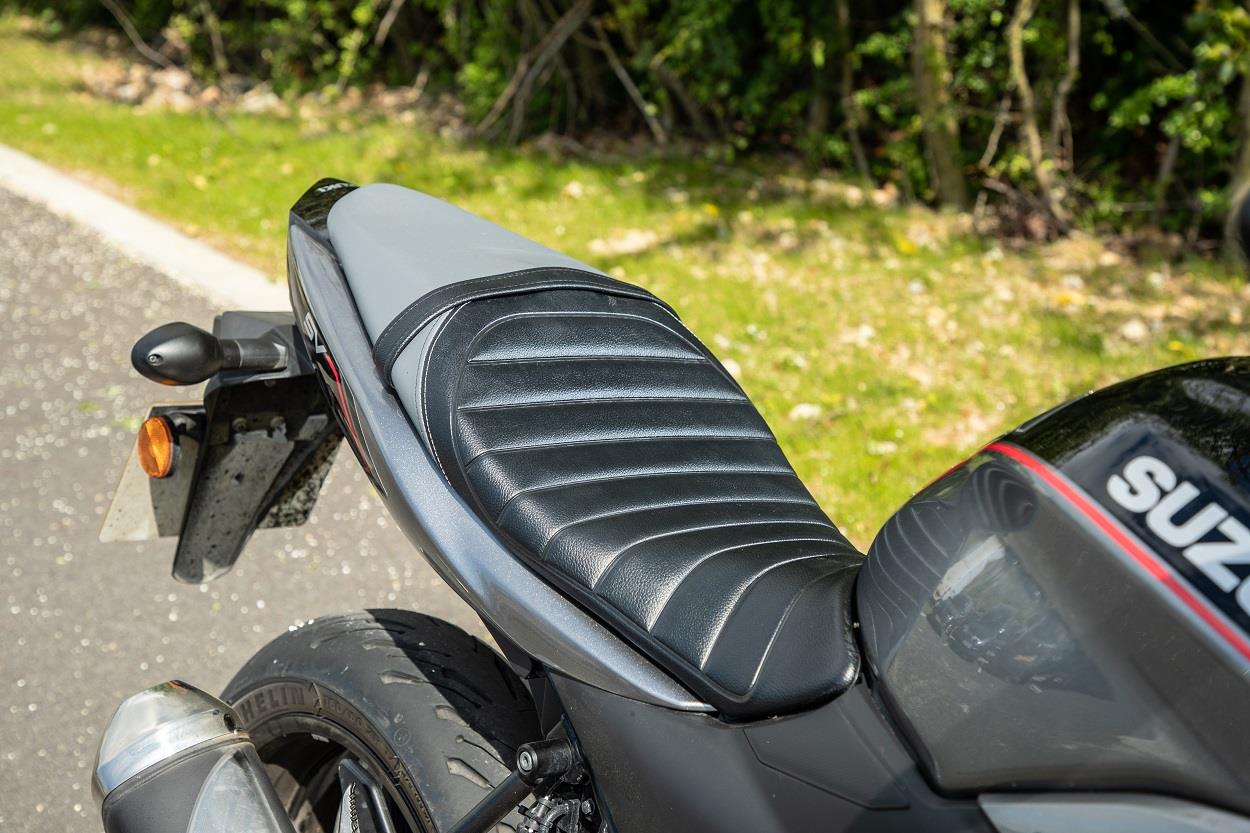 "How is it over distance?" - Alexander Thorpe
The seat isn't great (as mentioned above), but besides that, it is fine. It's not heavy on your wrists either, with the riding position feeling very similar to a 1990s sportsbike – you sit in it, rather than on it. Fuel-wise, I have seen 150 miles from a tank before I've run out of bottle, however the gauge has still been showing that there is some in the tank.
"How does it compare to the old Suzuki SV650S?" - Tracy Porter
The X is a much newer bike and benefits from ABS and preload adjustment on the front and rear suspension. Preload adjustment on the front only came in on the latest generation of SV650. There are also significant chassis changes. Obviously, the faired S model will offer more in the way of wind protection than the largely naked X and there will be more refinement in this latest bike"s Euro4 engine.
Update 5: How does the SV650X cope with distance riding? Published 14.08.18
In my time with the Suzuki SV650X, I have been pushing myself to ride further and longer, in a bid to discover new routes and roads outside my local Lincolnshire favourites, as well as add to my #ride5000miles total.
So far, this pledge to myself has seen me travel south to Brands Hatch for a day with the Kent Fire and Rescue team and to New Milton on the South Coast. The first of these expeditions was a 180-mile ride from MCN's Peterborough HQ with my colleague Shaun Collin to clothing and accessories experts, TranAm, who are based in New Milton, Hampshire.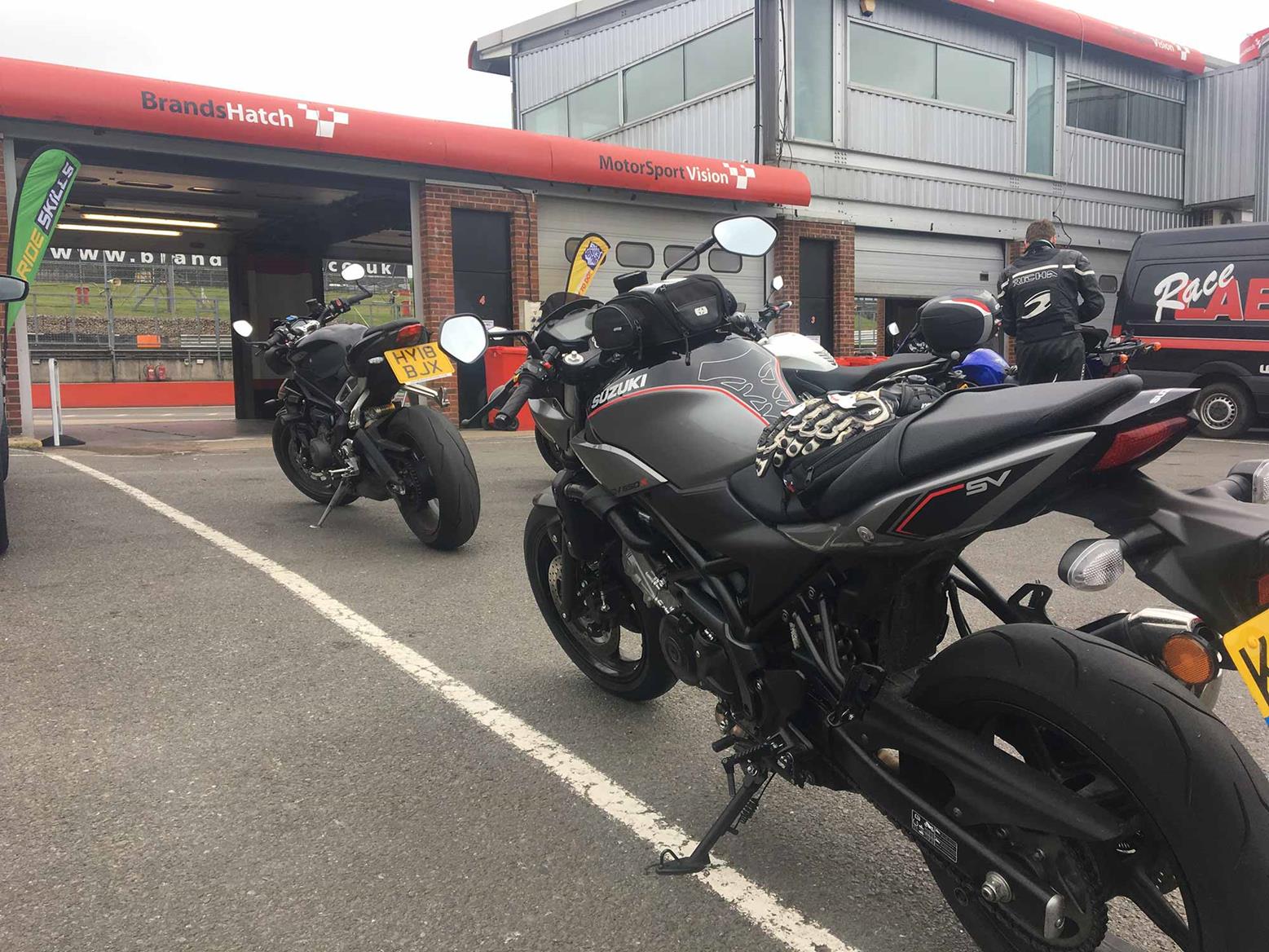 Taking place between Monday, May 21 and Tuesday 22, and with the weather in a state of flux between glorious sunshine and torrential downpours, the ride was my first chance to assess the bike's ability as a long-distance motorway cruiser.
Discomfort is a recurring theme
As previously reported, by this time I had already swapped out the standard seat on the SVX for something more padded from the upright SV650 after early complaints about discomfort and I was keen to see if the switch had worked. Sadly, it hadn't.
For anything up to an hour of straight upright motorway riding, the SV650X – complete with replacement seat – is acceptable, however after that the comfort drops off a cliff and by the time I had made it to my destination, I was walking like John Wayne poised for a shoot out.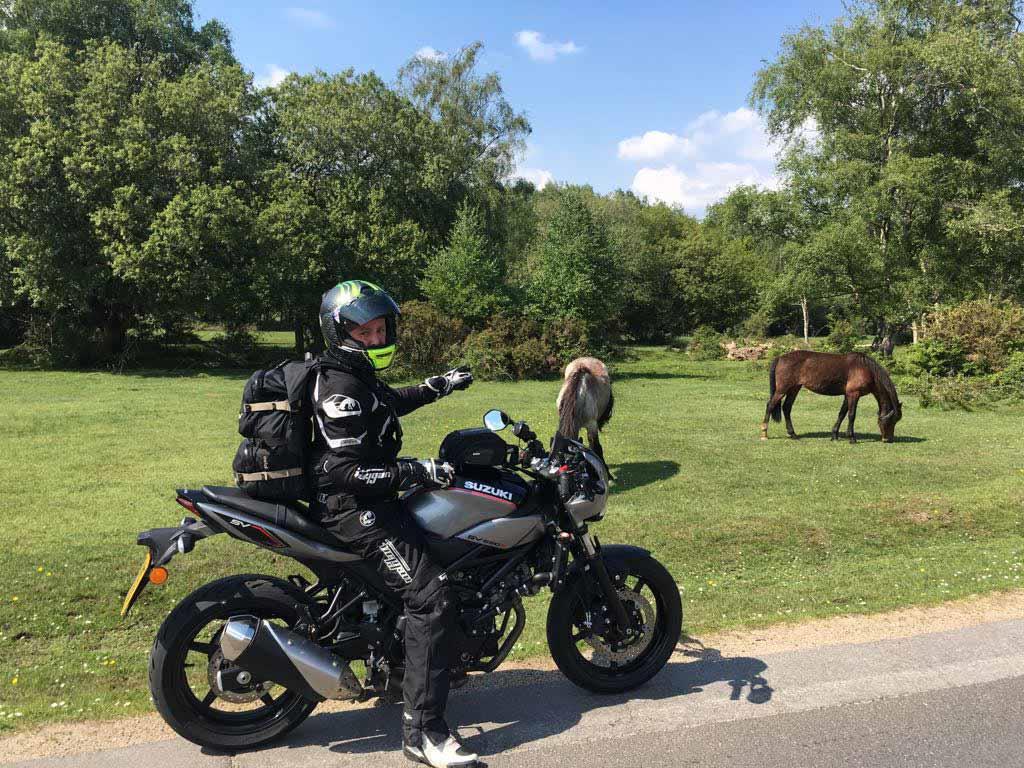 Unfortunately, this discomfort has a direct impact on the enjoyment of the ride, as you start longing for your destination, rather than taking in the view and enjoying the new roads – almost defeating the object of such a ride entirely.
There"s no escaping the road muck
Unsurprisingly, for a naked bike, the level of wind protection is also quite poor and although the fly screen really does help prevent a surprising amount of wind buffeting on your chest and head, there is no escaping the rain and road muck when the bad weather moves in.
I was keen to learn from this experience and make amends for future rides and so when I knew I would be riding 167 miles to Brands Hatch from my home, I fitted the bike with a £120 inflatable Airhawk seat cushion.
This quite literally saved my butt and with that additional cushion of air, all contact with the plank-like seat is removed. This made the motorway-filled journey a doddle, despite starting in the early evening and hitting plenty of congestion.
To gain comfort you sacrifice enjoyment
Unfortunately, in order to gain comfort, you must sacrifice a degree of enjoyment. This is because the Airhawk raises the rider off the seat by around an inch and makes them feel quite disconnected from what's going on underneath them. This then makes it harder to negotiate technical B-roads with any real sense of urgency, as there is a limited amount of feedback from the bike beneath you.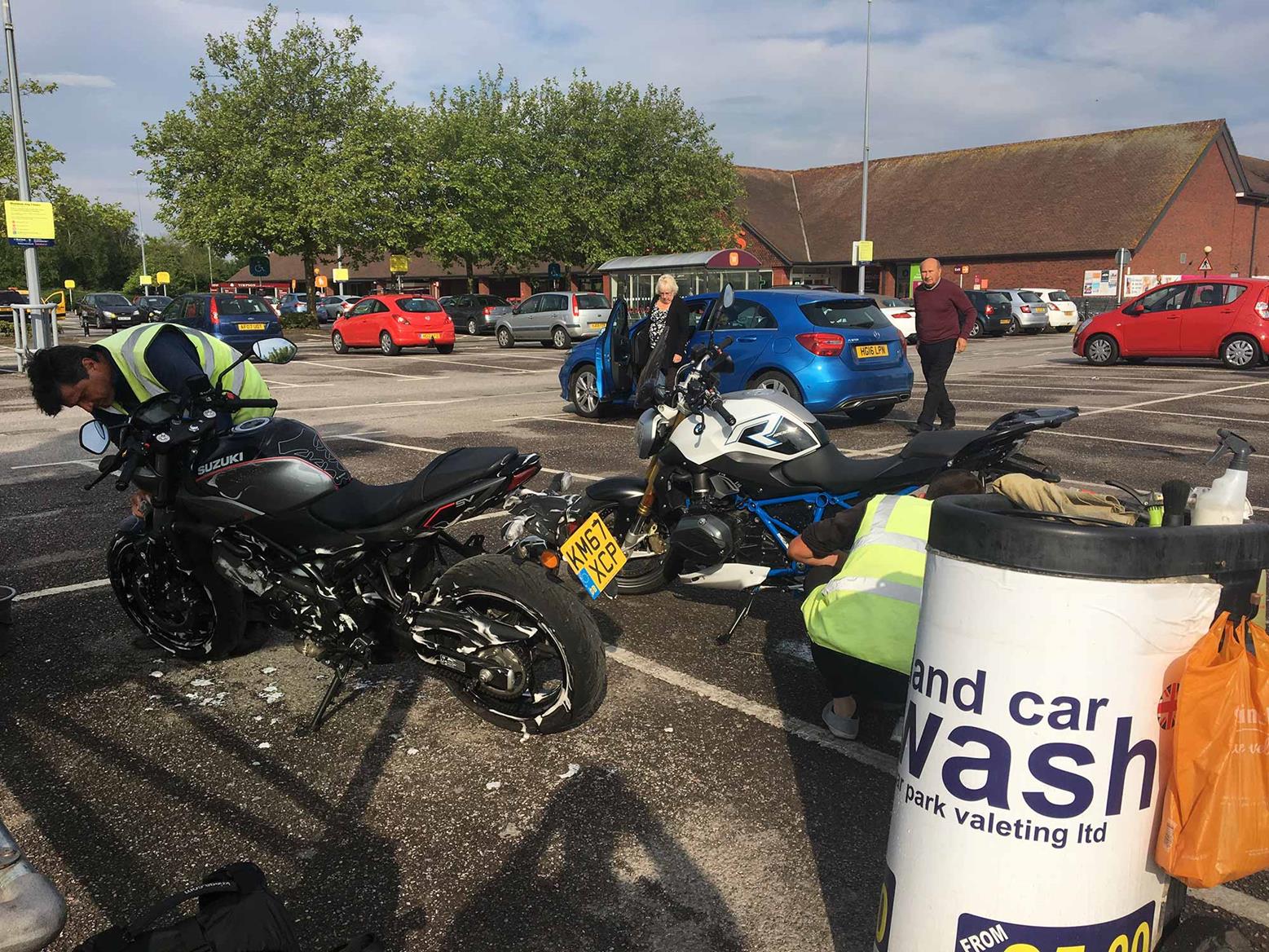 Taking small sips
Thankfully, it's not all doom and gloom and despite the discomfort, the SV is capable of good fuel returns when faced with the task of hours and hours of motorway misery.
The fuel gauge will show around 160 miles to a tank and is genuinely capable of that figure. As impressive as this is though, I would still be wanting to get off and stretch my legs and neck long before reaching this distance.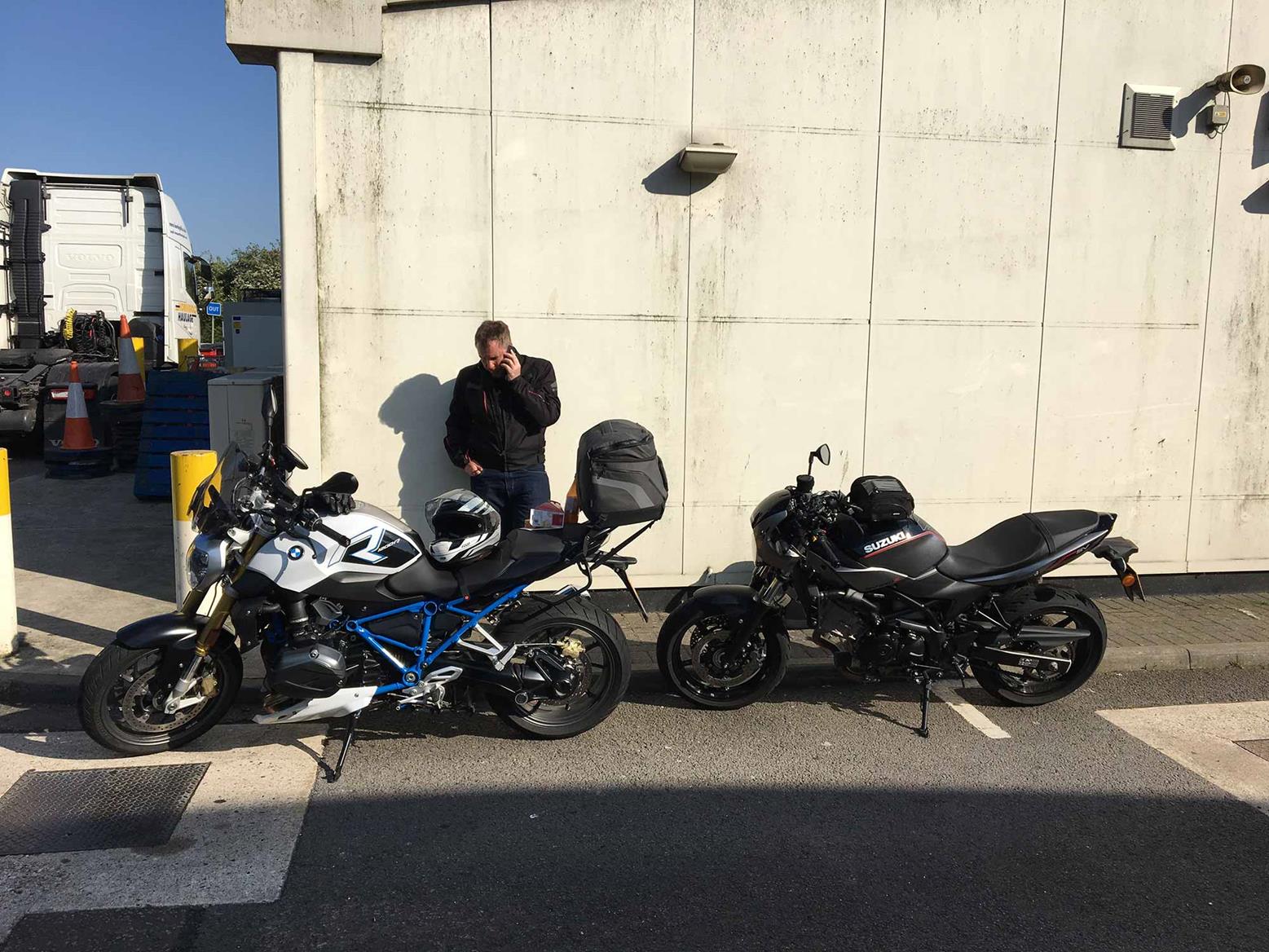 It's not what it was designed for
As much as these trips have highlighted the SV"s pretty hopeless ability as a comfy touring machine, it is important to remember that the X simply isn"t designed for such a challenge.
This is a middleweight cafe racer, which is most at home scratching along backroads or cruising between coffee stops. Although it returns decent fuel figures, the lack of comfort spoils the touring party and if you wanted something to ride for big miles, you would be much better suited elsewhere.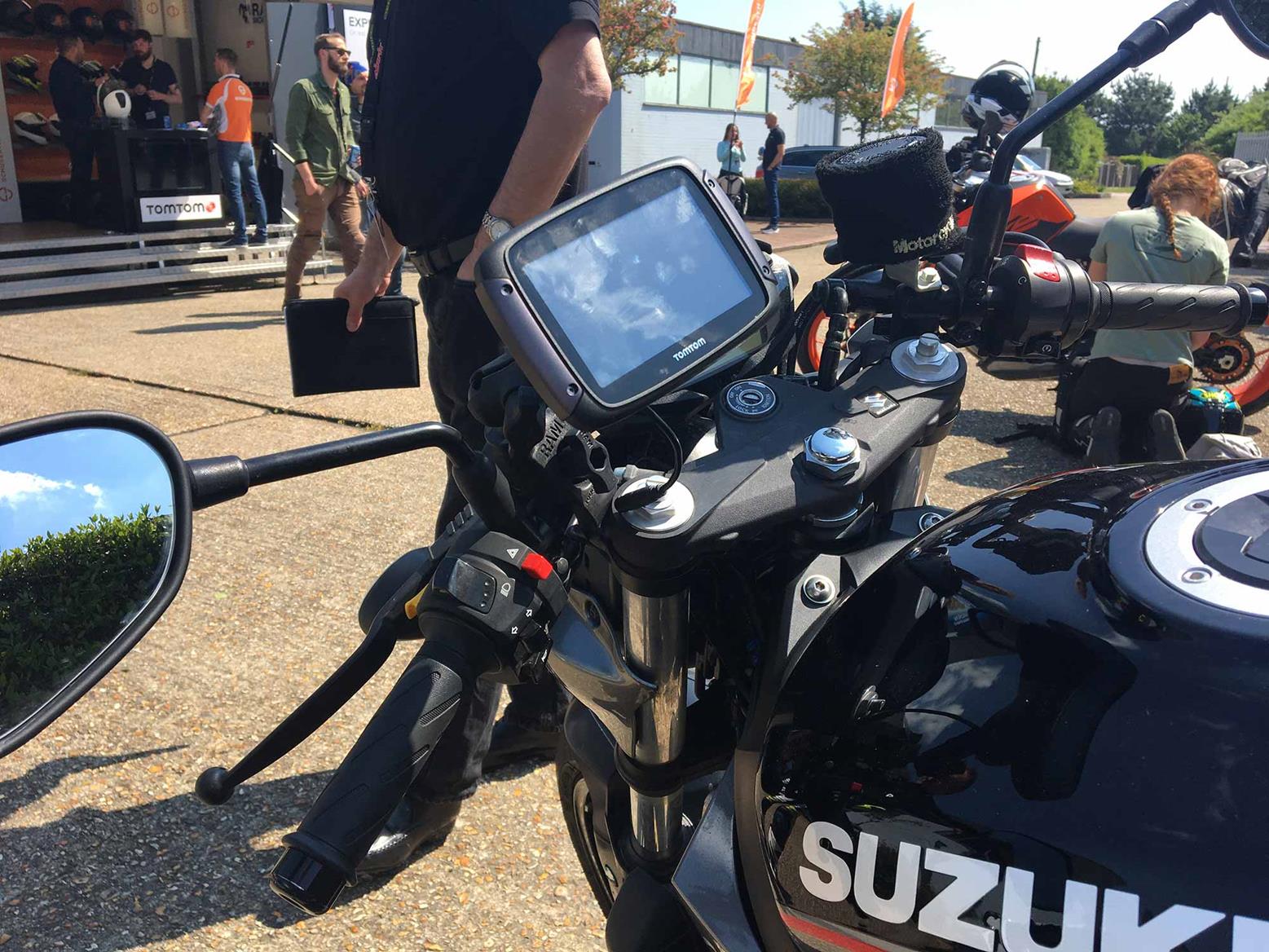 Update 4: The Suzuki SV650X takes on Silverstone GP Published 27.07.18
Having recently ridden the 2018 Suzuki SV650X at the Rockingham Motor Speedway's nadgery infield National Circuit and the Brands Hatch Indy layout, I stated the bike was the perfect introduction to trackdays (you can read more in update 3).
Despite such a claim, I was still interested to find out how it would cope with a much larger, more open track and so when the opportunity arose to ride the iconic Grand Prix circuit at Silverstone, I jumped at the chance.
We're at the @suzukibikesuk @silverstonecircuit trackday on the #MCNFleet18 #SV650X. With one session done, the bike is proving to be great fun in the bends, however lacks power along the huge straights. Stay tuned for more! #ride5000miles #mcn #motorcycle #sv650x #trackday
A post shared by MCN - motorcyclenews.com (@motorcyclenews) on Jul 17, 2018 at 2:21am PDT
With its exploitable V-twin engine producing just under 75bhp and only modest adjustment available to the preload at the front and rear, the near 3.2 mile track was the ideal test bed for finding out if the bike could really hold its own on a trackday, regardless of the circuit size.
Size isn't everything
Lining up at the end of pit lane with the rest of the intermediate group and minimal circuit knowledge, I was hit with a burst of nerves.
Surrounded by an array of litre sportsbikes – some equipped with slicks and bespoke track fairings – I was worried that the SV (or should I say I) simply wouldn't cut the mustard in such esteemed company. I needn't have worried.
After using the first session simply to learn the layout, the SV once again began to shine as the great track bike it really ought not to be.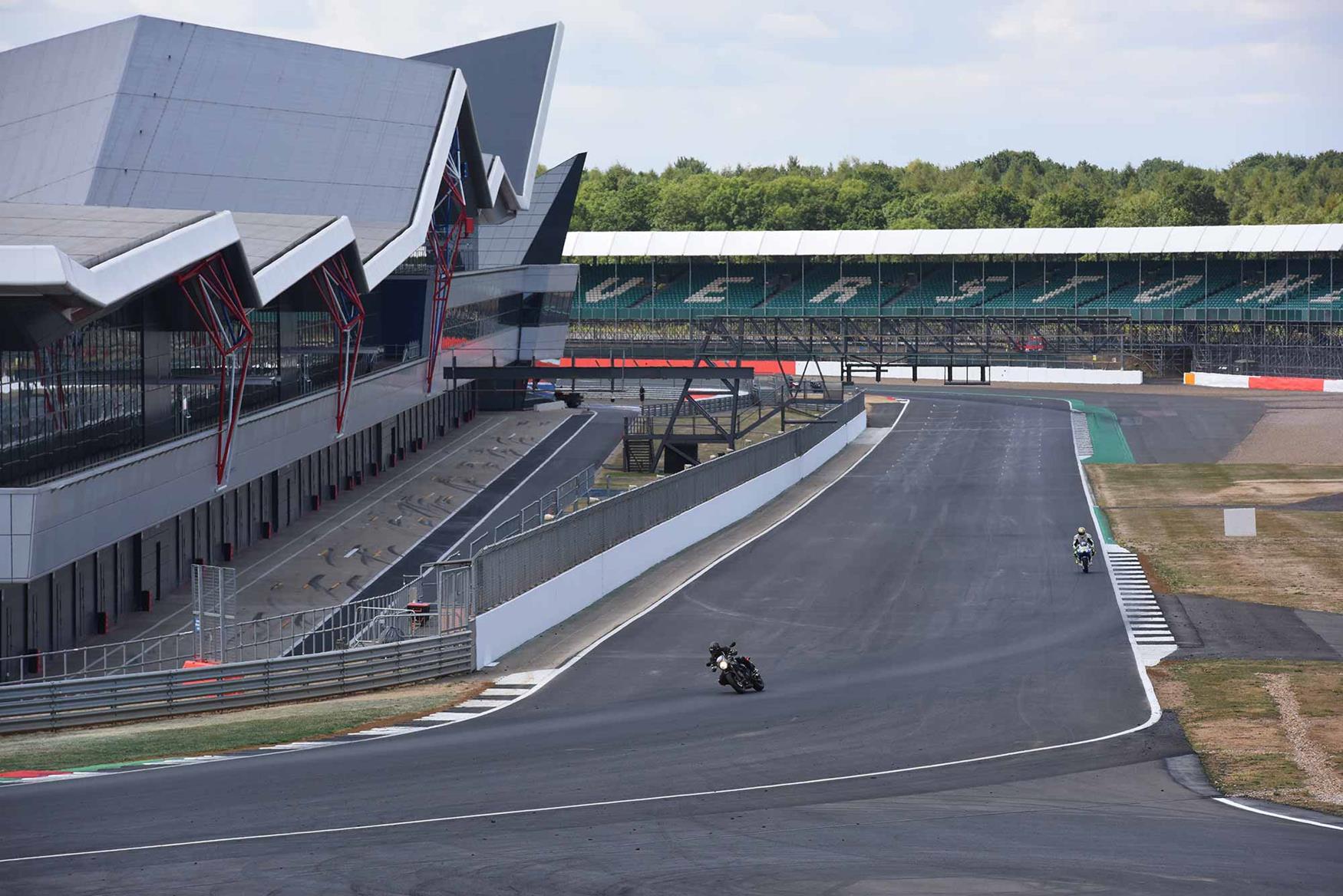 Still wearing the same Dunlop Sportsmart TT tyres as my last on-track experience, the bike remained planted and predictable through every corner – inspiring confidence in the rider and allowing you to hold plenty of corner speed through the faster turns.
"It can feel unsettled on cold tyres"
In the first few laps of each session, the bike would sometimes feel a little unsettled, due to the cold tyres, and clumsily applying the throttle mid-corner could encourage a wobble from the rear end.
On the straights the SV really does struggle though, with the bike monstered by pretty much anything, despite remaining as tucked as possible and the bike climbing to just 500rpm shy of its redline in sixth gear, before entering the next braking zone.
Having such confidence mid-corner though meant I could quickly regain time on these more powerful machines by spending less time on the brakes and carrying more of the speed I had just accumulated through every bend.
And with each big-bike 'scalp' came an even bigger smile on my face.
Ground clearance can be an issue
After just a few laps of the first session, it became obvious that the SV was struggling for ground clearance in the faster corners due to the bike's hero blobs, which stick out by around an inch from each foot peg and drag on the floor at the earliest opportunity.
Wary of the rear wheel lifting, I was straight back into pitlane to remove them. Taking less than two minutes to do with the correct sized spanner, I would recommend it to anyone wanting to take a current-generation SV on track.
With the #MCNFleet18 @SuzukiBikesUK #SV650X struggling for ground clearance, we've removed the standard hero blobs ahead of this afternoon's track action at @SilverstoneUK. pic.twitter.com/4p0YJIfEqB
— Motor Cycle News (@MCNnews) July 17, 2018
Suddenly, I could lean to bike over further without gritting my teeth, with the only audible scraping now coming from my knee and toe sliders. Excellent.
Unfortunately, by alleviating one problem, I accidentally then created another, with the additional lean angles allowing the metal shroud on the exhaust can to touch down instead.
Although only leaving a small, concentrated mark at the base of the unit, more continuous punishment could create greater issues further along in the ownership experience.
What does Simon Crafar think of it?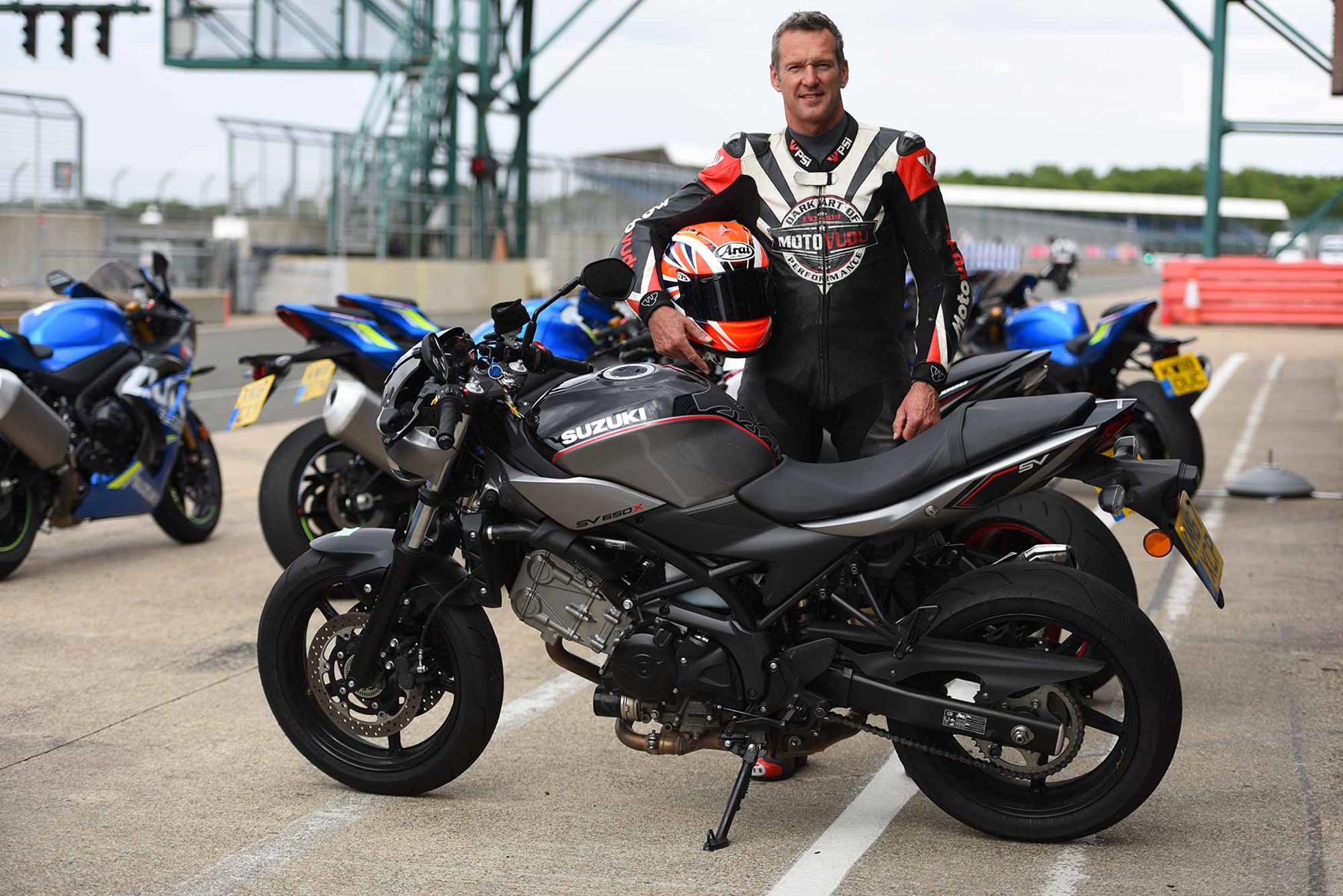 I was fortunate enough to be joined on the day by 1998 British 500cc Grand Prix winner, Simon Crafar.
After speaking together about the bike in the pitlane, I decided to offer Simon the keys for a lap during the final session of the day.
Speaking to him after the ride, Simon said: "I've been looking for something for my son to play on track with. He's ridden my 600 and 750 Suzuki trackday bikes and they're too much for somebody who doesn't have any track experience.
"That little motor is beautiful"
"That little motor is beautiful, but it also reminds me of the bikes I grew up with before I rode with fairings. It's fun, easy, nimble and really forgiving on gear changes, as it's quite torquey.
"I think that's the best thing I've ridden while looking for a bike for my son. No wonder you love riding it on the street!
"I'm used to a 1000cc bike, so I missed the speed on the straights, but in the corners it is so much easier. I'm super impressed. Also, that V-twin sounds good. I reckon if you put a different muffler on there, then it will sound super cool."
Update 3: The SV650X is a true budget do-it-all Published 11.07.18
Anyone who's ever spent any time in a race paddock will know someone who's competed on a Suzuki SV650. Born at the back end of the last millennium in 1999, they've littered the club racing scene for the best part of 20 years, and after just one session around Rockingham's technical National Circuit, I can see why.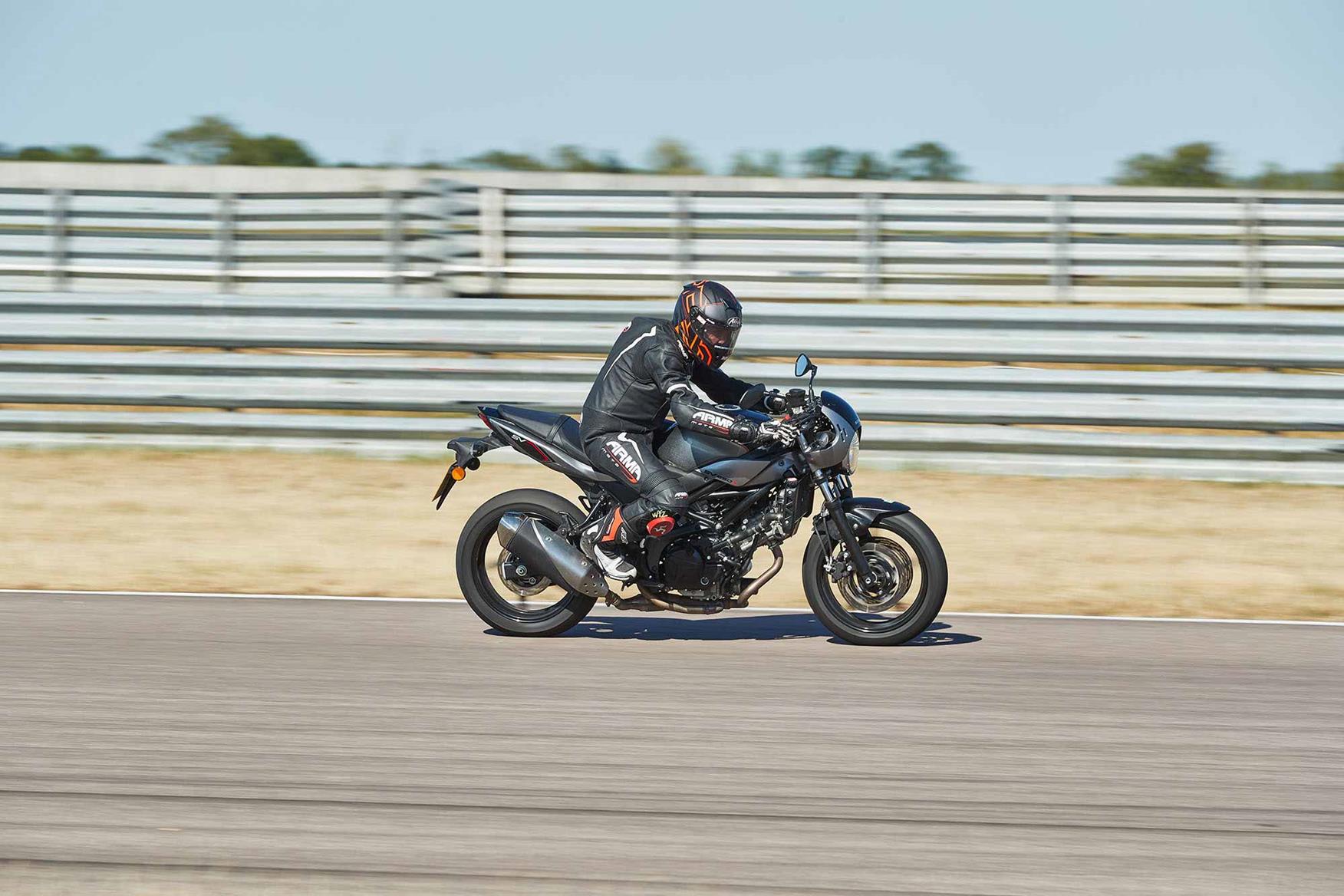 The £6199 SV650X is as basic as a current middleweight bike can possibly be, offering just shy of 75bhp, preload adjustment on the front and rear springs and conventional ABS at both ends.
However, for what appears to simply be a bargain-bucket but stylish commuter, the SV is actually an incredibly capable miniature sportsbike and when on a tight, nadgery circuit, or winding back road, it really shines.
"The perfect introduction to trackdays"
Armed with a fresh set of Dunlop Sportsmart TT tyres, the V-twin is easily exploited, offering enough power to be engaging along the straights while never really threatening to break traction on aggressive corner exits.
It's a similarly good story in the bends too, with the grippy tyres working with the soft, road-orientated suspension and clip-on bars to create a confidence-inspiring package throughout.
The only time the suspension lets the bike down is when you're getting on the throttle, with the soft rear squatting and causing the front- end to go light, which can translate into the occasional mild speed wobble or pushing wide on exits.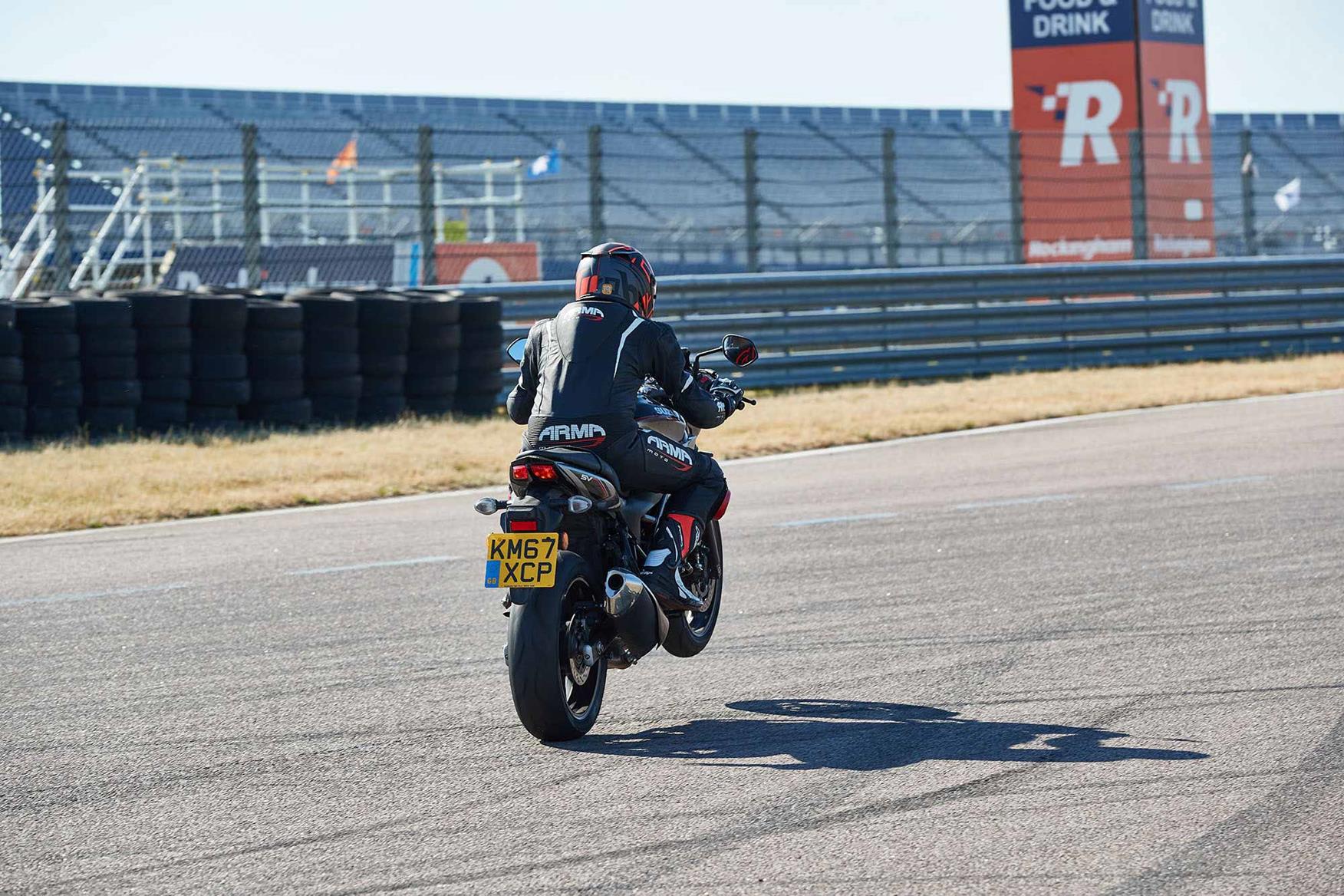 Granted, it's hardly a 600cc supersport machine, but it behaves far better than its six-grand price-tag would suggest and would be the perfect introduction to trackday riding; just so long as it's a tight and twisty circuit to play to its strengths.
I will be attending a track event at Silverstone in the coming weeks to see just how the bike fairs on a larger, more open track.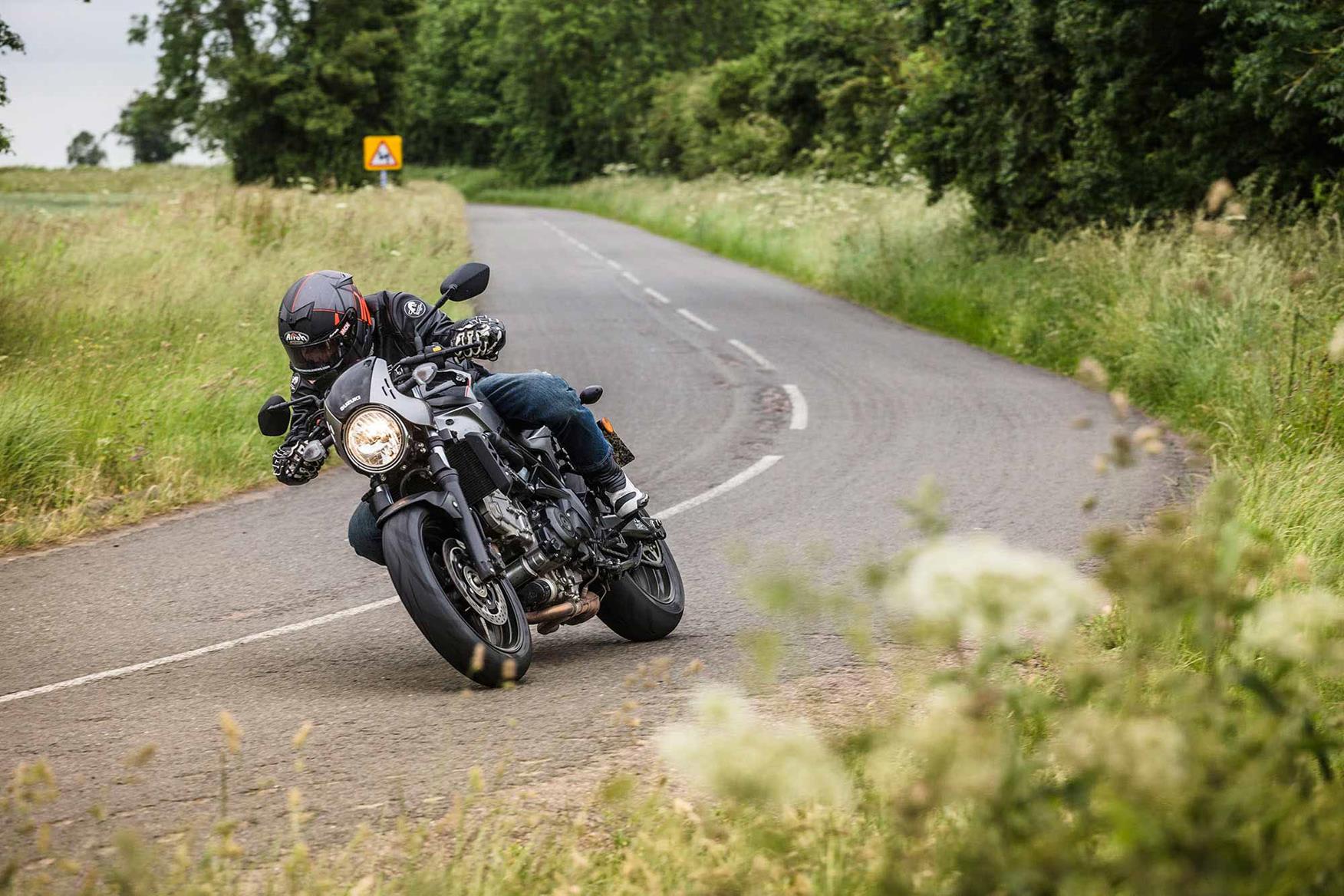 Away from the track, the bike is also a delight on your favourite, technichal back road. Equipped with my new grippy rubber and two additional clicks of pre-load on the rear shock, the handling is predictable and the soft suspension helps soak up any bumps and ruts.
The engine also offers the ideal amount of poke to be fully exploited, without having to worry about any points on your licence.
Update 2: The seat is a pain in the arse Published 06.06.18
In a bid to give the SV650X some added retro charm, Suzuki have fitted the bike with a thin rolled seat as standard, which sharpens up the rear and helps achieve a more aggressive stance than the standard SV.
Although a nice addition to the looks, it completely ruins the bike's ability as a long-distance commuter, becoming unbearable after around 20 miles of motorway riding and directly contributing to impatient riding, as you desperately try to reach your destination sooner.
The rolled design also makes it very difficult to clean, with any splodges of dirt or bird poo (it's happened twice) finding their way between each spongey crevice.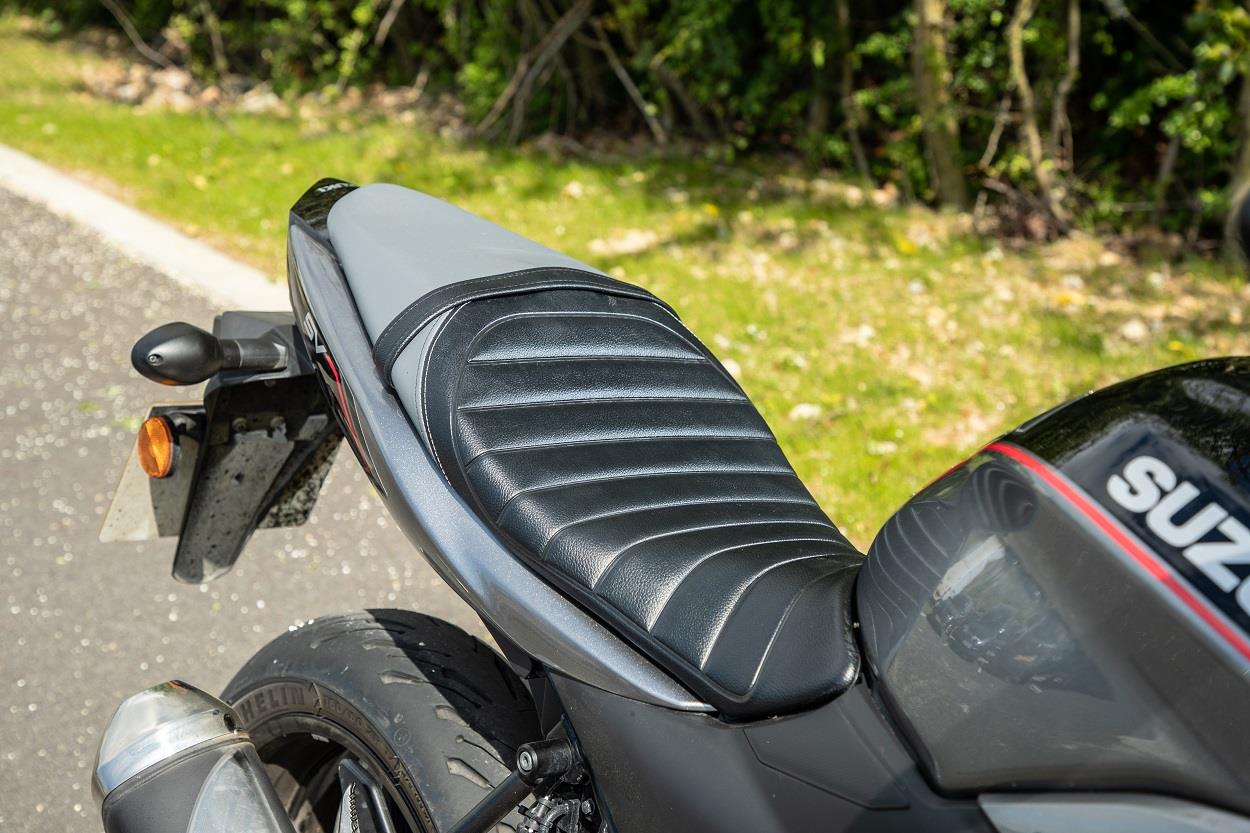 To combat the backside ache, I have replaced this bike's retro fitment with the standard seat from the upright SV650. Retailing at £102.64, this option slots in with no adjustment and feels slightly thicker, offering additional comfort over a longer period.
That said, on rides where you're unlikely to move around on the seat regularly, it will still leave you numb after around an hour in the saddle.
All clean and ready for the #MCNFestival tomorrow 🏁 #MCNFleet18 #ride5000miles pic.twitter.com/APBS4Gbz0P
— Dan Sutherland (@DanielJS46) May 18, 2018 Update 1: Introducing the Suzuki SV650X Published 20.05.18 0 miles
When I first clapped eyes on the Suzuki SV650X at its reveal at the Eicma show last year, I was hit with a mix of both intrigue and disappointment.
The X was Suzuki's only real new release for 2018 and, clip-on bars and bikini fairing aside, was and still is the same basic SV650 the Japanese firm released back in 2016.
With the only other notable addition being preload adjustable forks, which now come as standard across the SV range, it appeared to just be a lazy attempt to tap into an already saturated part of the market.
How wrong I was...
Below is a breakdown of my first 1000 miles of riding on the bike and what I descovered along the way.
100 miles
Styling aside, I have always had a soft spot for the standard SV650 and the inclusion of sporty clip-on bars on this model offer an added dimension to the already enjoyable riding experience.
With a fat tank and chunky seat, complete with sensible-yet-sporty foot pegs, the forward-focussed riding position is reminiscent of that of a late 90s 600cc supersport machine and reminds me of my own 2000-plate Suzuki GSX-R600, which I owned for three years as my first big bike.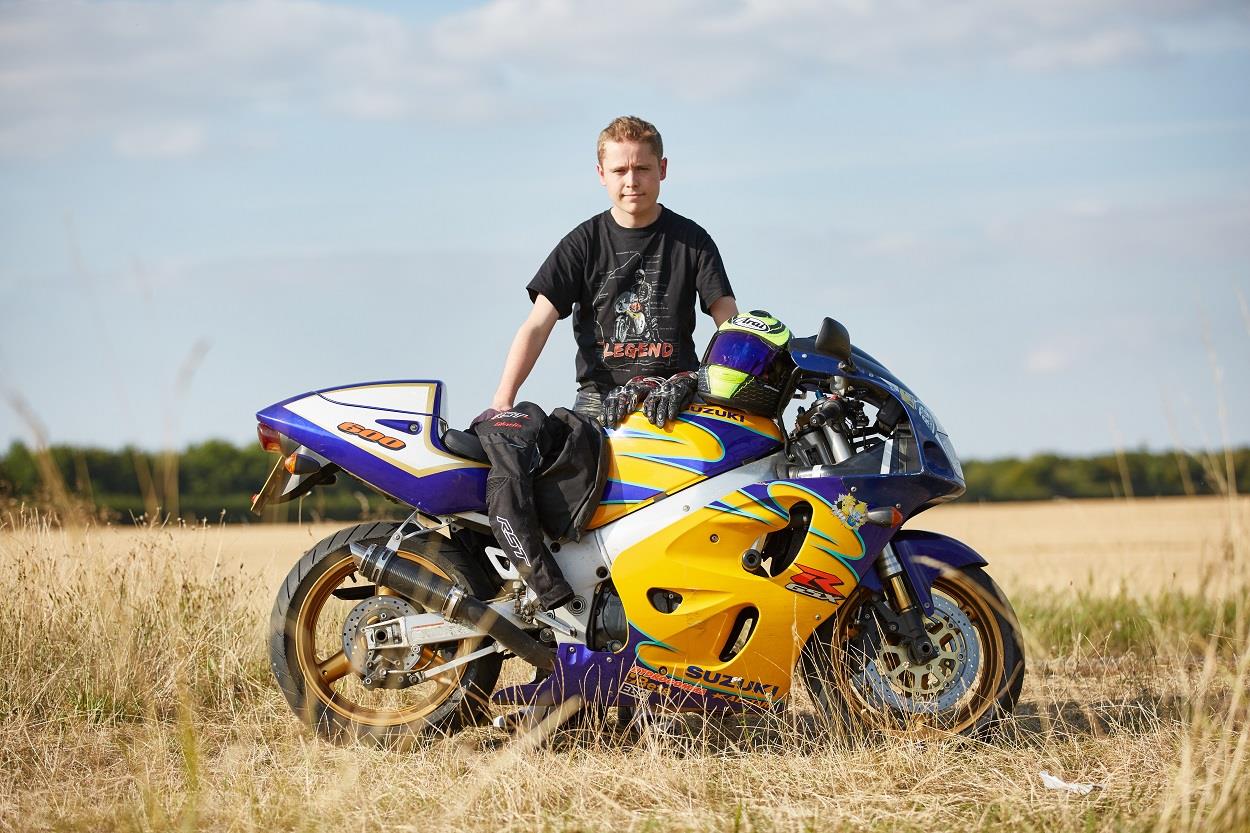 It feels more involved and precise than its upright twin brother and the peppy 645cc V-Twin is the perfect tool for maximum fun at road legal speeds on your favourite technical A or B road.
300 miles
I am a keen all-year commuter and have been using Suzuki's SV650X on and off since early March. Although we were largely out of the winter misery by this point, I was keen to keep the bike protected from corrosion.
To help combat the sludge, I applied a thin coating of ACF-50 every two weeks and rinsed the bike down with the hose and dried it after every trip. It was then thoroughly cleaned every weekend, ready for another week-long battle with the elements.
Unfortunately, despite my best efforts, surface rust was still able to appear on the inner sections of the front discs and on some of the outer plates of the chain, which I lubricate weekly.
This is disappointing when you consider the vast majority of SVs will only ever live their lives as commuting machines. Granted, at £6199, it's an affordable motorcycle, however you would expect a bike of this nature to be able to survive the last month of its first-ever winter relatively unscathed.
600 miles
As with any new bike, there is a running-in period to adhere to. Although how to treat a motorcycle during this time divides opinion, I have never had to do it before and so was determined to stick to the guidelines in the SV650X's owners' manual.
Lasting for the initial 600 miles before the first service, the process included sticking to a maximum rev-limit of 5000rpm in every gear.
On country roads and through town, this is easily done and remains an enjoyable (if slightly sedate) riding experience, as most of the SV's grunt is delivered from the bottom to the middle of the rev range.
Unfortunately, this limitation means a top speed of a speedo-indicated 68mph to 70mph - depending on how the bike feels on the day. On faster dual carriageways and motorways, this leaves you feeling quite exposed to the vehicles around you, as they buzz past at a considerably higher rate of knots.
Luckily, the manual also dictates that no constant throttle should be applied during the process, meaning these roads become largely out of the question, unless you're happy to continuously twist your right wrist forward and back.
I don't have this kind of patience and so the majority of my riding was restricted to back roads, which in turn added 15 minutes each way to my already hour-and-a-half-long daily commute, as I was forced to travel along the winding A15 from Lincoln to Peterborough, rather than directly down the A46 and A1.
When the SV was eventually taken for its first service after around a month, I began to explore the bike's optional extras catalogue – opting for the instillation of a tank pad and paddock stand bobbins before it was returned to me.
That's the first 600-mile service completed on the #MCNFleet18 @SuzukiBikesUK #SV650X. In celebration, we've treated the bike to a tank pad and some paddock stand bobbins! #ride5000miles pic.twitter.com/V2AExWp5sS
— Motor Cycle News (@MCNnews) March 28, 2018
Costing £22.50 and £25 respectively, these are imperative to the upkeep of the SV, which requires chain lubrication and adjustment around every 500 to 600 miles and the ability to use a paddock stand makes this job a lot easier.
Alongside this, the paint on the tank is also quite thin and had already scratched in several places before the application of the pad. While the paint is now protected from rubbing against the zip of my jacket, compared to some of the other tank pads in Suzuki's range, this one appears quite bland and featureless.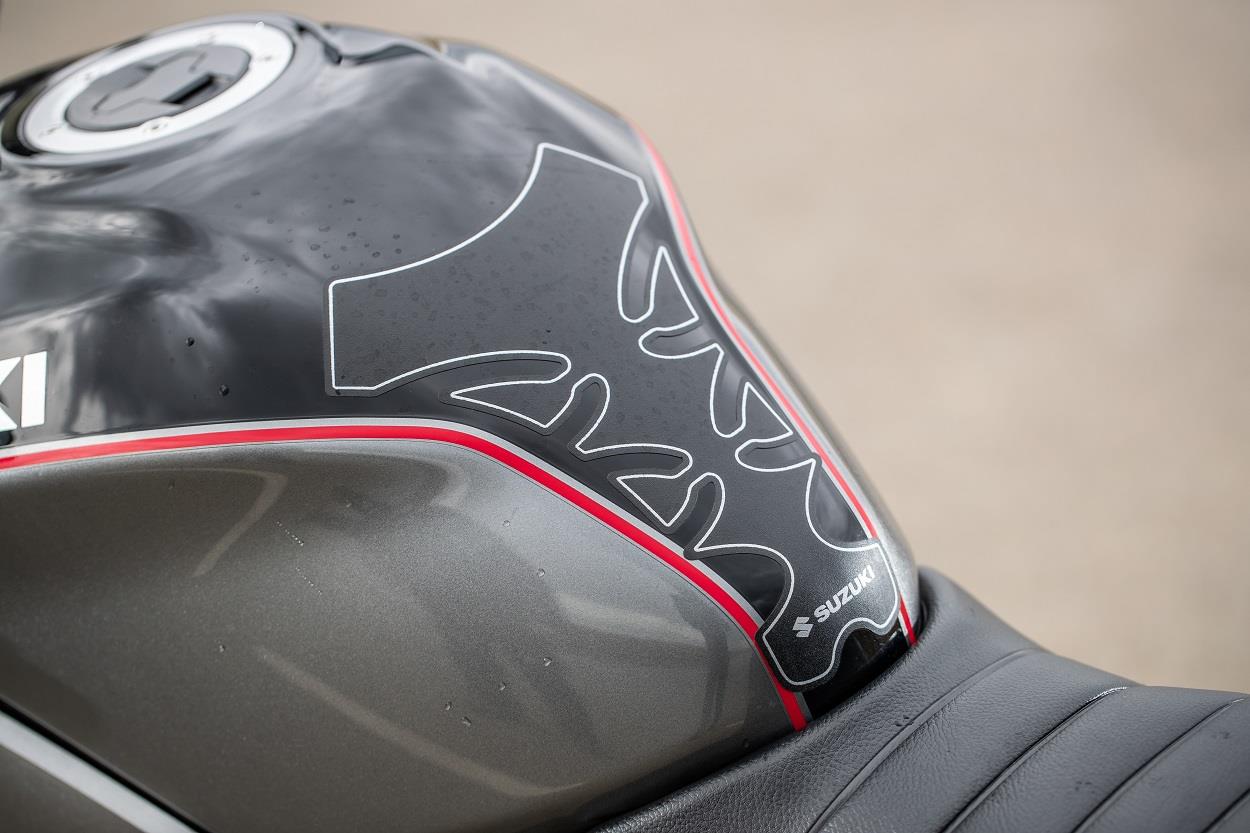 1000 miles
Once run-in, the X's sporting nature only improves. With full access to the bike's 10,000rpm rev-range, it transforms from a plodding retro wannabe, to a road-going mini-twin racer.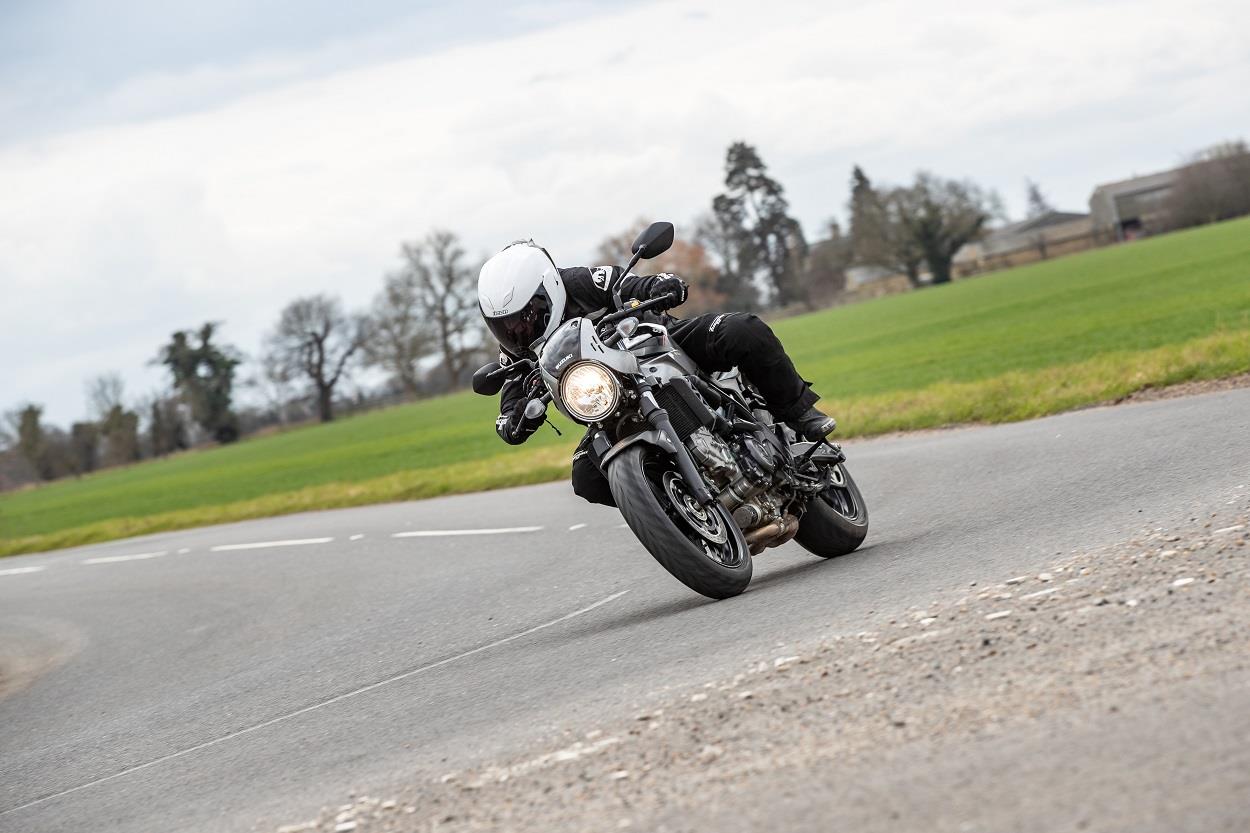 Complete with impressively grippy OE Dunlop Roadsmart rubber, it is out-of-the-crate fun and the perfect tool for both new and experienced riders. Winding on the perky V-Twin motor is hugely addictive and, with just 75bhp on tap, is largely accessible at road-legal speeds.
It is only when you start to really push on that you begin to notice the softly sprung suspension, which lets the bike down in faster corners and allows the back end to wallow from side to side. However, with preload adjustment available at the front and rear, there is scope for future tweaking, should I decide it's necessary!
READ MORE FROM THE #MCNFLEET18
Ducati Scrambler 1100 Special
Yamaha MT-09 SP
Honda Africa Twin Adventure Sport
Yamaha Tracer 900GT
Ducati Panigale V4 S
Triumph Tiger 1200 XCA
Kawasaki Ninja H2 SX SE
Nguồn: www.motorcyclenews.com